I attended my local radio clubs monthly meeting for September and one of the members received an envelope from a SK's estate that contained a stack of envelopes from 1964. The envelopes contained purple 5 cent stamps that were post marked from Anchorage Alaska on Dec 15th, 1964. I picked up 3 of them for myself. Below is a scan of the envelope which can be clicked to open up a larger image.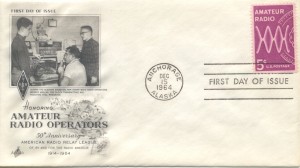 The ham that had them said he did some investigation and there were different pictures on the front, though all his were the same as what I scanned. The ARRL QST archive site search finds a mention in QST of the stamp in the Aug, Sept, Oct & Nov 1964 issues. The September 1964 QST references 3 envelopes to a set, each printed in a different color. WJ8C mentions it but doesn't show pictures and calls it a #1260.  I found a different picture on a Google image search which brought me to N4MW's site which shows a different picture. The page also links to a PDF courtesy of WA5CTP that shows a 3rd picture on the envelope. Using 1260 as a search I came across a list of amateur radio postal items which if you scroll to the United States lists 9 different covers. Mine is the closest to fdc 1 though mine doesn't have any mention of Oscar-1.
Amazing how much can be uncovered using the Internet to find out old info. I was just 18 months old when this was issued and almost 46 years later people are still enjoying what was done in 1964.
73,
K2DSL