This weekend, besides the NA RTTY Sprint, is the Makrothen RTTY ham radio contest. This is an interesting contest because the format consists of three 8 hour segments covering a 24 hour period. Fri night, Sat afternoon & Sun morning make up the 3 operating segments. What is also fun is the scoring is based on the distance between you and the other operator. The farther the distance, the more the points. There's also a bonus factor for contacts made on 40m & 80m.
Got to operate more this year then last year since the Giants are away and I didn't need to head to the stadium. First night I started on 40m and switched between 40m & 80m. While calling CQ I had R1ANP (Antartica) come back to me on 40m for 24,762 points! Went to bed with 88 Q's in the log all on 40m & 80m.
On Saturday after our clubs hamfest when I got back on that afternoon, 15m was dead for me. I made 1 Q the entire day on 15m. 20m was fine though and where I spent most of my time until 6pm when I switched to 40m. I stopped about 30 mins early to eat and prep for the NA RTTY Sprint that was about to start and finished the 2nd day at 210 Q's.
Woke up Sunday morning and got on the air again about halfway through the final 8 hour segment  which started 4am local time. 20m was doing well to EU and Russia and I worked all the new stations. I then switched to 15m and I was able to log about 13 stations in a row before switching back to 20m. I ended up logging just one 15m station on Saturday and 18 15m stations on Sunday, so 15m was much better for me. I hit 1 million points at 1451z on my 255th logged contact.
Definitely a fun contest with the 3 segments and the distance based grid square scoring. Here's the score summary for this one and as you can see, even though there were twice as many 80m contacts then 15m contacts, the distance on each of the 15m contacts provides more then a 2x score difference:
 

Band    QSOs      Pts


  3.5      39    53500
    7      65   209610
   14     155   724312


   21      19   122636


Total     278  1110058

Score : 1,110,058
The below map shows the location of the contacts. The Antarctica contact with R1ANP is in the lower right corner at a distance of 10,217 miles. The left most spot is with JM1XCW in Japan at a distance of 6,718 miles. The right most spot is UN6P in Kazakhstan.  Click the picture for a larger view.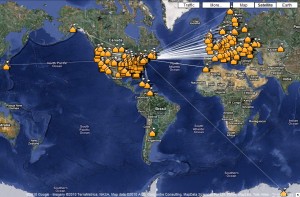 Thanks for all the Q's!
K2DSL