This past weekend was the 2010 CQ WW CW ham radio contest. The contest started Fri night and ran 48 hours through Sun night but I wasn't able to operate for large portions of the contest. I didn't operate at all on Friday night so I got started Saturday morning. I got started on 20m and after the first couple of hours I had 116 Q's, 56 countries and 14 zones. I switched to 15m which wasn't anything spectacular but there were more stations and more mults to be worked. I took a real long  break to go practice parallel parking with one of my daughters who is getting ready to take her driving test next month.  When I returned I worked 15m some more and then switched between 15m & 20m before going to 40m around 4pm (2100z). I worked 40m for the next couple of hours with a couple quick checks on 20m to work anyone new that was still there as well as a couple quick checks to 80m, mostly to work multipliers. I was done at 8pm (0100z) for the night as we were heading out to a party. Ended up Saturday with 154k points from 289 total contacts with 5 on 80m, 76 on 40m, 153 on 20m and 55 on 15m.  From some others, I heard 80m was good on Sat night but I was out and must have missed it.
Sunday morning I woke up and grabbed some coffee and fired up the ham radio at 7:15am (1215z).  I worked 20m for the 1st hour and then switched to 15m and was very surprised by what I heard. 15m was booming in early and EU stations were the strongest I had ever heard. As quick as I could turn the dial to the next station I could work them on the 1st or 2nd call. It was unbelievable! I worked 15m until 10am (1500z) when I had to leave and in the hour and 20 mins I had on 15m I worked 68 stations and that includes time for me to get ready to leave. I was heading off the NY Giants football game and I was considering blowing it off and staying on 15m, it was that good! I don't know how long 15m stayed like that but it was great while I was on.
After the football game I got home and could spend a little more time on the air. I got on at 5pm (2200z) and for 2 hours I made a 33 more contacts between dinner, etc.  The contacts were spread across 20m, 40m & 80m with some new mults in there to boost up the score. I ended up with a lot more Q's then I thought I would have knowing I wouldn't have a real lot of time. Conditions on 15m Sun morning definitely helped as well as all those fine ops out there that can pull my weak signal out from the noise.
Here's a map of the contacts made this weekend (click to enlarge). Unfortunately there weren't any out to Australia/New Zealand. I don't think I worked any new DXCC entities either.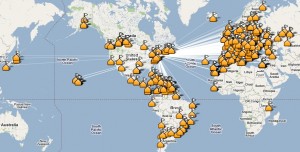 And here's my score summary from N1MM:
  

Band    QSOs    Pts  Cty   ZN


   3.5      10     22    8    4
     7      98    267   47   14
    14     201    573   76   23
 

   21     123    340   71   14


 Total     432   1202  202   55

 Score : 308,914
Thanks for all the Q's and good Dx,
K2DSL