My previous order of 1000 QSL cards back in early 2009 was done by UX5UO (http://www.ux5uoqsl.com/) and they came out great and were a real value. I looked back in my archives here and didn't see any post about me ordering from Gennady. Well it was time to reorder as I was getting down to a small number of QSL cards remaining and there was no question I was going back to UX5UO for my new batch of ham radio QSL cards.
From my experiences on the air over the last 2 years since my last order and seeing what I liked about what I saw on other hams QSL cards, I wanted to change the back design of my QSL card. I kept the same front of my card which is an old picture of the historic train station in town and focused on the back section. I like to write my QSL cards out by hand even though there's be no problem having a program print out a label I stick on the back.
Here's the front of the card: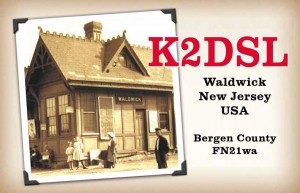 Here's the old back of the card:
Here's the new back of the card followed by what I changed and why: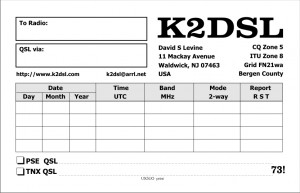 I moved the callsign of the station I worked to the very top left and underneath it I added a section for the QSL Via operator if they used a QSL manager. Previously I was writing it in red ink along the side of the card and now it will have its own section.
I changed the QSO info to a grid format. I'd say 75% of my QSL cards are for a single QSO but the other 25% are for multiple QSOs and 4 is enough to cover almost any I'd send out.
I was also writing PSE / TNX QSL by hand on my old card so I had it pre-printed on this one with a checkbox. I usually write something on the back of the card and didn't want to eliminate that completely so there are 2 lines at the bottom of the card which I can still write a brief note.
Gennady / UX5UO at http://www.ux5uoqsl.com/ provides a great service at a great value and works with you to design your cardif you want him to. I would not hesitate to recommend as I have to others who are also extremely happy with their cards.
73 & good DX!
K2DSL