This past weekend was the CQ WW SSB ham radio contest and the conditions leading up to this weekend pointed at good conditions and that certainly seemed to be the case.  Because it is still football season and add in Halloween weekend, there were a lot of other activities to deal with. We also had a freak October snowstorm that caused a lot of damage and power outages that are still ongoing. But when I was on the air, it was a blast.
Friday night I went straight from work to the last home high school game of the season so I wasn't back home until 9:45pm ET (0145z)  and spent 1 hour on 20m making some contacts including a JA and Hawaii station, a bunch of Caribbean stations and some European stations. I called it an early night spending a little time with the family before heading to bed.
Saturday was going to be the day I could spend the most time on the radio. I got on just before 9am  and scanned 20m for a few contacts and spent the next 1 hour on 15m. Most contacts were to Europe and the Caribbean. I switched to 10m around 10:00am (1400z) and for the next 2.5 hours made a bunch of S&P contacts to Europe and the Caribbean. Nice strong signals from both areas. I needed to take a break and got back in a couple hours and 10m was still going strong.
By this time, we were getting an early snow storm. It wasn't supposed to start snowing until later in the day or early evening but before noon the heavy wet snow was coming down. The problem is the trees all have most of their leaves on them and that was going to be a big concern that turned into a serious problem. As the snow continued non-stop for hours, branches with leaves and heavy wet snow started to snap. I lost a bunch of very large branches that didn't cause any damage to my house or vehicles, but others weren't so lucky. The largest limb fell on the power/phone lines from the street to our house but with a neighbor we were able to push it away from the wires. We had sporadic power outages but they didn't last too long. Others in town have been out of power since Saturday with the possibility it could be a week before all power is restored. At one point we were standing on our porch and every 15 seconds you could hear the crack and see a new branch fall from someone's tree. It snowed from late morning through the night for what seems to be the largest Oct snowfall since they started keeping records in the 1800's. Lucky for me, the branches holding my wire antennas held up and even branches which hit the antennas and ropes didn't take them down.
As I dealt with the snow during Saturday afternoon I intermittently got on the radio. My wire antennas were drooping from the weight of the snow and I could tell at one point my 3 band fan dipole was touching the roof, I was able to make contacts.  Around 6:30pm (2230z) I made my first VK Australian contact on 10m and got him on the first the call followed by 2 Hawaii stations. There were probably 5 or so intermittent blackouts during the afternoon that put me off the air. By 7:30pm (2330z) I needed to shut down and head to a couple of Halloween parties in town. We had to deal with multiple detours as roads were closed from downed trees and power lines. The roads were a mess but the parties were fun. When I got home around 1:00am (0500z) my wife asked if I was getting back on the radio but I decided to head to bed.
Sunday morning was a home Giants NFL football game so I was off early to go to the game. It was warming up and sunny without a cloud in the sky – great weather to watch a football game. I got home from the game, moved branches around, pulled one down that was leaning on the house, and turned the radio on  at 5:15pm (2115z) and went right to 10m. Just after 6pm (2200z) I started to hear JA stations and was able to work two JA stations back to back on 10m. I even worked one JA station on 3 bands – 10, 15 & 20m.  I popped over to 15m and worked a few more stations and after a quick bite for dinner popped over to 20m for the remainder of the contest working AL9A as my last contact.
I ended up logging 9 different JA stations in 12 contacts, 5 different AK stations in 6 contacts with 4 on 10m, 5 different HI stations in 6 contacts also with 4 on 10m. I also logged the 3XY1D Guinea dxpedition, the C5A Gambia dxpedition and Turkey on 10m for the first time. In total worked 65 different DXCCs. Had a nice short chat with a few different operators including Derek J39BS who I seem to find in most contests as well as KL7AF who recalled sending my QSL request
from over 2 years ago.
Here's my score summary for the time I was able to spend on the air:
 Band    QSOs    Pts  Zone DXCC
   14      43    108   17   27
   21      67    180   17   36
   28     142    385   17   51
Total     252    673   51  114

Score : 111,045
Here's a map of the contacts made over the weekend (click to enlarge):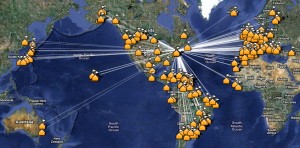 73 and thanks for the fun!
K2DSL