The fun and different WAE RTTY contest was this weekend. It utilizes QTCs which is a batch, usually of 10, contacts that can be exchanged with the other station as long as they are on a different continent. It helps increase your score beyond just the contacts you directly make. I made 573 QSOs and added 589 QTCs for a total of 1162 total contacts.
Friday night was the start of the contest but I was at the last high school football game of the year which was also the last game my oldest daughter, captain of the cheerleading squad, would cheer at in high school. When I got home I fired up the radio and spent 1 hour making contacts before calling it a night with 38 contacts.
Saturday conditions were good across the bands with the majority of activity being on 10m. 20m seems to be the least crowded of the bands where up until a few months ago, 90%+ of the activity would be on 20m. Here's a screenshot of an active bandmap from N1MM when I was on 10m just after 10am (1500z) on Saturday (click to enlarge):

I was able to work a VK (Asutralia) station just after 4pm local (2100z) on 10m. It was the only VK station I worked all weekend. The next station I worked was a Hawaii station on 10m. 1 hour later I worked 4 JA stations in a row on 10m. I asked to send/receive QTCs a bunch when I thought I wouldn't have an issue receiving or they would hear me ok sending. If there's too much QRM/QSB, repeats can be painful. I probably could have asked more often and I'll try and do that next year. Late in the day I spend a little time on 40m and 80m but didn't log too many and did a few other things late in the day. I worked a Saudi Arabian station on 20m. which is only the 2nd Saudi station I've worked.
Sunday conditions were good, though a bit more work bypassing stations I hadn't worked the day before. 15m seemed more active on Sunday and less general noise on that band. I was able to work the same Saudi station from Saturday but this time on 10m. Tuning the bands for S&P was productive all day Saturday and most of Sunday so I didn't call CQ too often. Around mid day on Sunday I started to call CQ on various bands, and I'd get a short burst of stations but it didn't last long and I went back to CQing.
Some notable Qs made: ZD8F on Ascension Island worked on 20m late Sat afternoon and 10m on Sun morning right after the Saudi 10m contact. Sat afternoon on 10m I had 4 JA station contacts in a row and 7 total in less than 30 mins. Also logged Phil GU0SUP for just the 2nd time and ZC4LI who I worked a lot a couple years ago but handed logged a contact with in 18 months.
Some stats show 1 station worked on 5 bands and 12 other stations worked on 4 bands. There were 359 unique stations worked out of the 573 Qs's logged. Looks like 59 different DXCCs were logged across 25 different zones. US stations topped the list followed by Germany, Canada, Italy and the Netherlands.
The map of all contacts made is below (click to enlarge):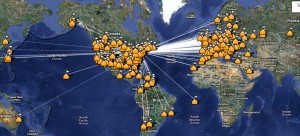 Here's a map of all the 10m contacts made over the weekend (click to enlarge):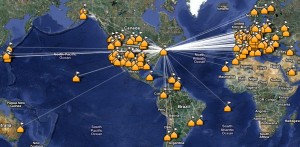 Logs have been upload to LoTW, eQSL and sent off to the contest sponsor and already confirmed as received. Here's my score summary which you can see is a bit longer than normal because it shows the QTCs by band:
Band   Q/QTC  QSOs    Pts  Mlt
 3.5    QSO    23      23   36
   7    QSO    88      88   87
  14    QSO   138     138  122
  14   RQTC    90      90    0
  14   SQTC    40      40    0
  21    QSO   129     129  104
  21   RQTC   100     100    0
  21   SQTC    60      60    0
  28    QSO   195     195  116
  28   RQTC   169     169    0
  28   SQTC   130     130    0
Total   All  1162    1162  465

Score : 540,330
I enjoy the WAE format. Looks like the ARRL Phone (SSB) Sweepstakes is up next weekend so I'll be trying to get time on the air for that one.
73,
K2DSL