Happy New Year everyone!
It was a very busy weekend for me that prevented me from getting on the radio for about 6 hours during prime time on Saturday and 9 hours during prime time on Sunday. That left me with early morning and  late evening operating which is reflected in the bands I was most active on. During my operating time there wasn't a lot of DX, though I did manage to hit all but VT, ID and DC in the US and a few Canadian provinces.
I noticed a few stations that were dropping the last character of each of their transmissions and it was occurring regardless of what was being sent which eliminated it being just a bad macro. It wasn't that they were weaker either but just completely dropped. With it being a few stations, I wonder if they might have been running a common program that had an issue.
I also noticed a few stations sending 5NN. which is actually slower in RTTY than 599. But at least they were on and participating.
I didn't work anything new, though on Sunday after I got on there was a VK station calling CQ and ending his exchange with "… QRZ LONGPATH". He was an easy copy for me and worked him on the first try.
Here's a map (using http://www.levinecentral.com/adif2map ) of the contacts made during the RTTY Round Up (click for a larger view):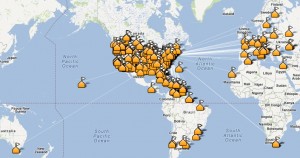 Here's a zoomed in view of US contacts made (click to enlarge):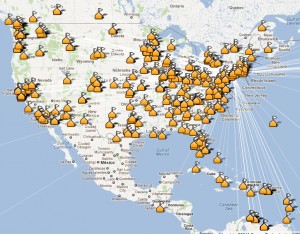 Here's my score summary as generated from N1MM:
 Band    QSOs    Pts  Sec  DXC
  3.5     134    134   22    0
    7     111    111    8    7
   14      88     88    2    8
   21      66     66   13   17
   28      37     37    7    4
Total     436    436   52   36

Score : 38,368
My log is sent in and upload to LoTW and eQSL. See you in the next contest!
K2DSL