Saturday into Sunday morning was the 2012 SCC RTTY ham radio contest. I had a lot of errands to get done on Saturday morning and a big party to go to Saturday evening, so my time to participate would be limited to just Saturday afternoon.
The exchange and multiplier for this contest is the year you were first licensed. For me that was 2007. Most seemed to be in the ballpark but one exchange was 1916 which required me to forcefully log the station when I worked them because N1MM said it wasn't valid. I just checked the call now and it is for W7DK which is a club station that appears founded in 1916. Before I checked QRZ I was calculating the age of the person, assuming it was their birth year vs their license year and that would have made them 96 yrs old!
I spent most of my time on 20m and the rest on 15m though I checked 10m a lot. I would say at times 10m was open but no one was there calling CQ. During the contest I worked C31PP on 10m in Andorra for a new band with that country. The station wasn't in the contest so I logged them in DXKeeper instead of N1MM. I also eeked out a 10m contact with K1SFA who was operating at the K1TTT station. I just saw K1SFA post her score which is almost 60% higher then last years #1 world score in the contest – congrats Khrystyne and team!
I didn't work anything exotic in the short time I was on. I did hear India but there was a good pile-up and it wasn't worth my time to try. I didn't work a station that sent 2012 meaning they were licensed in the last 8 months. I did work 2 different EU stations sending 2011. Leaving out the 1916 station, the lowest year I received was 1950 by a Slovenia station. Both the average and median of all the years (excluding 1916) was 1982.
Here's the N1MM score summary:
 Band    QSOs    Pts  Year
    7       6     13    6
   14      64    166   40
   21      33     82   27
   28       6     14    6
Total     109    275   79

Score : 21,725
Here's a map of the contacts generated from ADIF2Map (click for a larger view):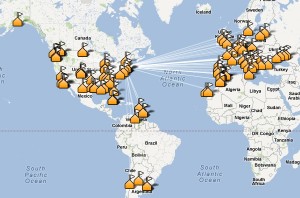 All logs are uploaded and submitted.
73,
K2DSL