Friday into Saturday was the 24 hour Russian RTTY contest. Had a few things to deal with over the weekend and thought I'd just get on to give out a couple of quick points. I participated a bit more than that.
Got on to make a couple contacts starting out with K1SFA @ K1TTT who I quickly found on 40m. Made another half dozen on 40m before checking 20 which had some activity. Worked 15 or so stations and checked 15m. AL9A was booming in on 15m and then I worked another US station but didn't hear anything else. Went back to 20m and worked some more before heading back to 40m. Worked some there and came across TA2ZF in Turkey who was pretty loud. He wasn't spotted yet from what I could tell but there were louder stations then me working him. I came back in a few more mins, could still work hear him and worked my first TA on 40m. I worked a couple more on 40m and 20m before checking 15m before calling it a night and came across BA2IA in China. He was up and down but I could get a good copy on him. Took a couple mins but I did work him for my first China contact in the log! I then called it a night.
Sat morning I got on to see what I could hear and with the radio still on 15m I heard ZC4LI (UK Base on Cyprus). Steve is an active contestor who I worked a few times in 2008 and 2009 but hadn't worked much since (one in 2010 and twice in 2011). It was nice to work him for the first time in 2012. 10m was open to Europe – worked Germany, Serbia, Romania and Hungary. Bands seemed to drop out shortly after that and then were less active whenever I was able to hop on for a bit and check.
I received a nice TNX LOUD AS ALWAYS exchange from DO4DXA. I worked TA2ZF in Turkey again on 20m mid-day Sat and heard him continuously through the contest.
Midday on Saturday I worked TG9 and KH7 on 10m both with strong signals.
I loaded the logs from N1MM into DXKeeper, uploaded the QSOs to LoTW and eQSL as well as sent it in to the contest sponsor. This morning when I looked, the contact with China is already confirmed on LoTW for a new one.
Here's the score summary from N1MM:
 Band    QSOs    Pts  DXC   OBL
    7      13     80    4     2
   14      72    585   29     7
   21      59    500   28     2
   28       9     85    7     0
Total     153   1250   68    11

Score : 98,750
Here's a map of the contacts made (using ADIF2Map
) – click to enlarge: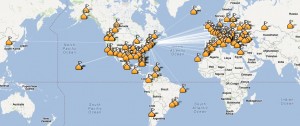 73,
K2DSL