Thanks to both Rob KC2RDW and Niko AA2NI, I am really back on the air now. This weekend they both spent a good part of their Saturday helping me get the NA4RR hex beam mounted up in the air on a Radio Shack rotor I had picked up at a local hamfest a year or so ago. Together they figured out the best plan to get the pole made up of two 1.25″ steel pipes securely mounted on the back of my garage and then get the rotor and antenna on top of it all. We hit a bit of a snag with the mounting brackets I had not well suited for the 1.25″ pipe (though it states it can accept up to a 1.25″ pipe) but they improvised and it worked out fine.
I did measure the height but based on the poles and the rotor I'd guess the bottom of the hex beam is about 18 feet (5.5 meters) or so off the ground and it is working fine. In some tests on Saturday and Sunday after it was up I was able to easily work Namibia, Saudi Arabia, United Arab Emirates, a dozen Japan stations in the All Asia contest and even snagged a new DXCC working ZD7DC on St Helena Island in the South Atlantic.
After we got the NA4RR hex beam up, Niko shot a line perfectly placed into one of my trees and we pulled up a line attached to a spare G5RV I had that will allow me to work 40m and 80m in addition to the bands covered by the hex beam.  This replaces the G5RV that was taken down, along with my triband fan dipole when a huge tree fell across my property taken down the wire antennas (and my gutters along with other things) during Superstorm Sandy the end of last October.
Thanks so much Rob & Niko – you made a very happy ham again!
Below are some pictures taken while getting things set up.  Click any picture to see a larger version.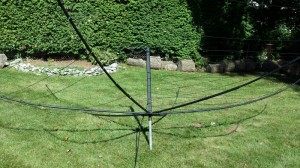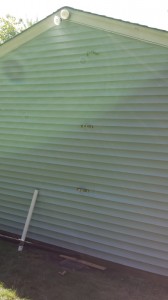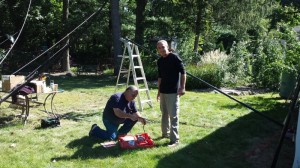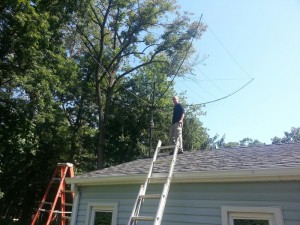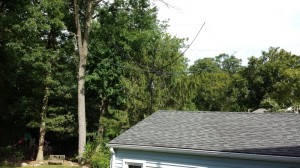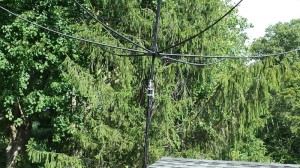 73,
K2DSL