September 15th, 2013 by K2DSL
It's that time year when summer winds down and contest season and American football start up. This weekend had all that with cool evening temperatures dropping into the 40s, a VHF contest, WAE SSB contest and a Giants home football game.
Friday night after work, I made a dozen WAE SSB contacts with 10 contacts on 20m and 2 contacts on 40m in a short time on the radio.  I needed to then gather up things to head out the next morning.
Saturday morning I woke up early and got ready to head to where we keep our club's equipment (towers, generator, antennas, coax, tents, tables, etc) to help load up the equipment for a trip to the top of a mountain not far from the Tappan Zee Bridge and Hudson River. A group of us met there and pulled out what we needed and loaded it onto a 24 ft rented truck for transporting to the contest site. The weather was gorgeous and a little cool when we started out, but all that lifting gets you warm pretty quick.
Around 9:30am we were at the location and unloading the equipment. We had small teams of people working on the 6m antenna, the 2m/220/440 antennas, the generator, the food area, etc. Everyone was helping out doing something. We had a 6m antenna on a nice 2 section crank up aluminum tower that worked well and the 3 other bands stacked and on another 1 section tower we raised up. We also had a station setup to handle 2m/220/440 FM and a vertical antenna for each. Here are some pictures of the setup and start of operations. Click any picture for a larger view.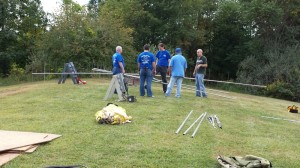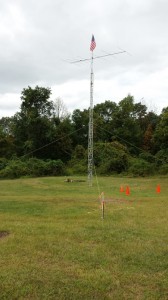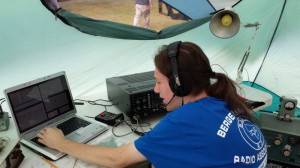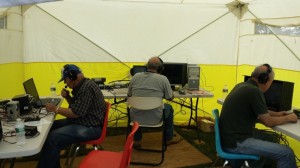 We were on the air right at the start of the contest with one tent housing the 6m station and the other larger tent with the 2m/220/440 stations. I operated the 6m station for a while and though I was able to consistently make contacts, there were no openings out west or south. I stayed around until 9pm and set out for home.
Sunday morning I woke up and made some more contacts on 15m and 20m in the WAE contest. I also exchange QTCs with the EU stations. Sending QTCs is me providing the EU station with a list of (up to) 10 previous contacts not yet given out by me with the time of the contact, the callsign and the serial number the EU station gave me. In the CW and SSB versions of the WAE, we give EU stations the info while in the RTTY contest it can go either way. It's a good twist and N1MM makes it simple to do. I ended up sending all my QSOs as QTCs which essentially doubles my # of contacts. In the end I ended up with 73 actual Qs logged and 72 QTCs for a total of 145 QSOs as counted in WAE contests.
  Band   Q/QTC  QSOs    Pts  Mlt
     7    QSO     2       2    6
    14    QSO    24      24   30
    21    QSO    47      47   42
    21   SQTC    72      72    0  <-- QTCs sent to the EU stations
 Total    All   145     145   78

Score : 11,310
I wrapped up the ham activities and headed to get my daughter going to college in NYC to join me at the home opener for the NY Giants. It was great spending time with her, but the Giants played poorly and it wasn't a good football game if you are a Giant fan. It could be a long season ahead! :-(
The contest season is getting ready to get into full swing and hopefully I'll be able to spend a good amount of time participating and trying out the new NA4RR hex beam.
73,
K2DSL