Saturday into early Sunday morning was the IARU HF ham radio contest. I participated on and off during the day Saturday. Conditions early on weren't great they seemed to improve throughout the day. Spent most of the time on 15m & 20m and switched back and forth. I worked unassisted and wasn't using the DX cluster so I just kept scanning up and down the bands.
Late in the day before I was reading to call it a night, I scanned the bands one more time and heard 9K2K coming in strong. When I entered the callsign into N1MM, it showed the station was in Kuwait. I called once and he came back to another station and on the next call he came back to me. We each gave our contest exchange and I had my first Kuwait station in the log!
DX contests are often good times to work new DXCC entities and that was the case for me this weekend. I worked a total of 39 different DXCCs (loosely equating to countries) with 1 new one in the log.
Here's the map of contacts generated using ADIF2MAP (click to enlarge):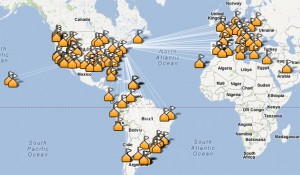 Here's the score summary from N1MM:
 Band    QSOs    Pts  ITU   HQ
    7      12     20    3    6
   14      80    208   15   23
   21      37    117   10    8
   28       3     11    1    1
Total     132    356   29   38

Score : 23,852
Next weekend is the NAQP RTTY contest and I'm looking forward to that one.
73,
K2DSL