Field Day has been over for a week and I'm just getting around to posting about it. After missing 2 Field Day's in a row due to my daughters having back to back years of high school graduations that landed on FD weekend, it was nice to be back. BARA, our active local radio club, now operates Field Day on a large field in a town in our county that provides plenty of area to work with and huge lights for the field we can string up antennas between.  There's also a covered pavilion and bathroom facilities next to the field.
One group met where we store our equipment and loaded up a few cars and trailers with tables, chairs, coax, tents, etc. The other team was at the field shooting rope up for the antennas. This is the first FD I've had with the club where we didn't try and setup a tower or two and it sure made setup much easier. When we arrived at the field all the lines were ready for us to start stringing antennas and setting up the stations. We had 3 stations that would get tents and the other 2 stations would operate under the pavilion. One one of the field we had the 40m station that strung wire antennas across the field and parallel to the field. We had the 80m station at the opposite end with OCF wire antenna. We had the 20m station on the opposite side of the field with a double extended zep. We had as 10m station/ 160m station and that used a wire antenna for 10m and a vertical for 160m. The 15m station had a wire antenna that wasn't working well and we switched to a G5RV we had hung up between poles.
Instead of running up to the last minute in getting everything setup, we were done with 2 hours to spare before the contest (or event if you don't want to call it a contest) started. All stations had notebooks with WiFI that communicated with each other via a router and wifi antenna that was centrally located. It worked well and I didn't hear of a single issue with the computers. Most but not all computers were hooked up to the notebooks so they were synced for band, freq and mode. All stations ran off a total of 4 Honda generators that used very little gas over the course of the event.
We started out with all stations ready to go and the 80m station focused on 40m phone while the 40m station worked CW. I walked around and made sure things were working well everywhere and hopped on the 15m station. Conditions for us weren't very good on 10m and 15m so it was slow going on both those stations. 40m was good the entire time and 20m was good well into the evening.  In the evening we switched the 10m station to 160m and a couple works ended up working a good number of stations using the vertical that had a boatload of radials. Once it got later the 40m SSB station switched to 80m SSB and started calling CQ to some mini pileups.
We made some solar contacts as well as some satellite contacts on 2 different passes. I really enjoy watching the satellite guys work. There were some ISS passes on Saturday and they were heard, but not worked.
We had lunch and dinner served by one of the club members who did a great job with burgers/dogs for lunch and pasta/pork chops for dinner. No one was hungry and there was always coffee available. I decided to head home for a quick nap around 1am ET (0500z) and have a shower in the morning before heading back to the site.
I got back on Sunday morning around 7:30am ET (1130z) and all stations except 10m & 15m were making contacts. 10m and 15m picked up a little on Sunday but still nothing exciting. Folks worked all the stations, sometimes teamed up in pairs with one on the radio and the other logging. I prefer doing both but some rather pair up. We worked all stations right until the end before we shut them down and started to tear down.
Here are the totals for our weekend: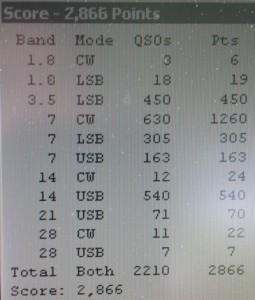 There were 21 Qs on 160m, 450 on 80m, 1098 on 40m (ignore the USB as they were LSB), 552 on 20m, and just 71 on 15m and 7 on 10m.
I'm glad I was able to participate in FD again after a 2 year absence as I certainly had a lot of fun!
73,
K2DSL