Starting Saturday morning East Coast time in the US was the 24 hour IOTA contest where anyone can work anyone else, but it's really best to work stations that have an IOTA associated with them as they are worth 15 pts vs 2 pts.  You can have an IOTA number if you're on an island which might not seem as exotic as it might sound. Yes, there are islands such as Reunion Island or the South Cook Islands that come to mind, but Long Island counts as an island too.
The contest started out slow for me with few signals and those I heard were weak. I logged some Qs and then all of a sudden I could tell the noise was back that I experienced last week. I immediately got up and asked my neighbor if he just turned something on and he said he just opened the garage and put the lights on. I asked him to shut off the lights and the noise was gone – turn on the lights and the noise was back. They installed some high output T5 fluorescent lights in their new garage and they are noisy. With both on I get about a S5-S7 when I turn the antenna to them. With one disconnected as a test, the noise was 1/2 so it's not one particular light that was the problem. We'll have to figure out what to do but at least the source was identified.
I spent the day going back and forth to the radio working stations here and there. It remained pretty slow to mid afternoon when the signals got stronger and I could hear and contact more stations. It continued strong through the evening so I spent time at the radio. I worked SSB (phone) for most of the contest until I saw a station spotted on CW that I wanted to work so I did some CW too, putting me in the Low Power Single Operator Assisted Mixed Mode category. The spot I saw was for Dodecanese on 20m and I was able to work him.  I saw E51AND in South Cook Islands spotted on 20m at 10pm local time and it took me 2 straight hours to get him logged right at midnight local time. He had a huge pileup  but it started to thin out a bit as it got later in the evening.
After logging the E5-S station I took a quick listen and logged 2 ZLs and a VK station on 20m CW followed by FR4NT on Reunion Island who was coming in very strong on 20m SSB.  I was pretty tired so I exported my log from N1MM, loaded it into DXKeeper and sent it off to the contest robot, Clublog, eQSL and LoTW.  I already have the SV5 Dodecanese contact confirmed on LoTW.
It looks like I worked 46 different DXCCs including Dodecanese, South Cook Island, Reunion Island, Crete, Saudi Arabia, New Zealand & Australia.
Here's a map of the contacts made in the IOTA contest using ADIF2Map (click to enlarge):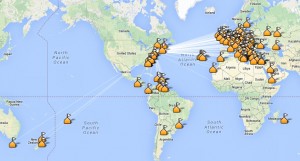 Here's my N1MM score summary:
 Band  Mode  QSOs    Pts  IOTA


    7  CW       5     49     3
    7  LSB      2     30     2
   14  CW      23    241    13
   14  USB     86    807    29


   21  USB      6     77     4


Total  Both   122   1204    51

Score : 61,404
73 & Good DX,
K2DSL