Now that I posted about the SARTG & NAQP contests from a couple weekends ago, I can get to this weekends summary.  Starting Saturday morning on the East Coast is the 24 hour SCC RTTY contest that last for 24 hours. The exchange to send between stations is the year the operator was first licensed so I send 2007. Each unique year on each band counts as a multiplier for your final score.
I decided to use the N1MM+ beta version that was released. Though it has been available for anyone to use for 2 weeks, last weekend I wasn't home so this is the first weekend I could use it in an actual contest. For the most part it worked fantastic which just a glitch near the start where I was replicating an issue someone else had and caused my installation to become corrupt, but it wasn't difficult to recover. Anything else I ran into wasn't critical and never prevented me from making a QSO and logging the contact. The N1MM+ development team has put in a tremendous amount of time and they are positioned to have an updated environment to build upon for many years.
Conditions were pretty crummy for me, especially early on at 8am local time and the activity was pretty slow at times so I did other things (aka errands) while I went back and forth to the radio.  The advantage of it being somewhat slow was I could mess around with N1MM+ and especially some of the new features/options to see how they worked. On Sunday morning, though I woke up before the end of the contest, conditions weren't much better and I didn't locate anyone on 40m or 80m so I worked a handful of stations on 20m before the contest ended.
Looking at the license data that is sent as part of the exchange, the earliest license date I received from another op was 1946 (born 1928 based on his QRZ page)  which makes the operator licensed for 68 years now!  I didn't log anyone licensed in 2014 and just 1 operator licensed in 2013. The median license year I logged across unique operators was 1979 and the most frequent wasn't much different with 1978 being the year the most operators I worked were licensed.
Here's my N1MM+ score summary results showing the 216 Qs made in the contest:
 

Band QSOs  Pts Year (mult)


  3.5   16   32   14
    7   64  129   39
   14  124  340   52


   21   12   33   10


Total  216  534  115
Score : 61,410
As you can see, most activity was on 20m for me until the evening. I was hoping for more US stations to be on to work 40m and 80m but they must have been doing other things on a Saturday night of a holiday weekend. No 10m activity that I could find and nothing very exotic.
Here's a screenshot of the contacts made using ADIF2Map (click to enlarge):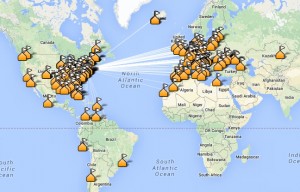 Now time to unplug the antennas as a series of thunderstorms are about to pass through.
73,
K2DSL