Back in 2009 I wrote a post and was in contact with Merceda aka "Bunny" the original holder of K2DSL in the 1950s.  After a contest a few weeks ago where K2DSW (Bob now in Iowa) and I, K2DSL were often following each other making contacts, I sent Bob an email, In our exchange he asked me about the original K2DSL as he had made contact with her and sent me some QSL cards from his exchanges.  With Bob's permission, I'm posting the QSL cards from his contacts with the original K2DSL back in the 1950s when Merceda was between the ages of 13 and 15 years old.
1954 – Age 13 (click images to enlarge):
1955 – Age 13 (click images to enlarge):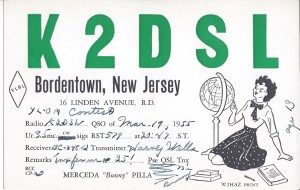 1956 – Age 14 (click images to enlarge):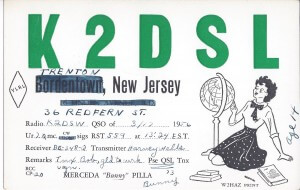 1957 – Age 15 (click images to enlarge):
Bob also sent along a scanned copy of a reprint from a CQ Magazine article on Young YLs. I've included the snippet on K2DSL which includes a picture of Merceda (aka "Bunny"). Again, click for a larger more readable view: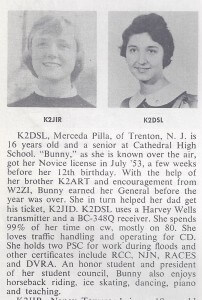 I'll have to check in with Bob and see if he was able to get in contact with Merceda using the email address I had from 2009. Interesting look back into the past. Thanks again Bob for the great scans on those cards from the 50s.
73,
K2DSL