A bit late but I had a busy week. Last weekend was the CQ WPX SSB contest where the multipliers are the prefix of the callsign worked, and any can work anyone else. I didn't use the cluster and as I've always done, ran low power (100 watts).
Conditions were ok on Friday evening (finished with 84 contacts logged) and good on Saturday with decent activity on 15m with 10m picking up around noon ET.  I stayed on the air much of the day until around 11pm ET. Conditions weren't great, but they were certainly fine with not a lot of noise on 10m or 15m.
On Saturday I heard 2 station in China (BY) coming in strong but they couldn't hear me over the west coast stations.   I was hopeful that maybe I could find them again Sunday and log them, but when you read on you'll see that didn't happen.  That's really the only DXCC entity I recall hearing that I didn't get logged.  I finished Saturday right at 400 QSOs in the log.
On Sunday, the conditions were lousy. I wasn't hearing anything on 10m and the stations I could hear on 15m I had worked. To quantify how poor the conditions were, I even volunteered to go food shopping with my wife. While I was out food shopping, I got a call from a high school friend that he was having an impromptu get together in a couple hours so I knew where my afternoon and evening were going to be spent. After food shopping and before I left for the party, I worked, and each took some work to get in the log, a whopping 41 contacts over the course of a couple hours. I logged just 41 contacts on Sunday and each was a chore.  I checked with another ham that works with me and he said the conditions were also crummy on Sunday.
In the end it looks like I worked 76 different DXCCs and 300 different WPX prefixes. Of the 441 QSOs logged, there were 344 unique stations worked. Some of the more interesting entities were Georgia,  the ITU HQ in Switzerland, San Andres Island, Israel, Kuwait & Qatar.
Here's a map of the contacts made using ADIF2MAP (click to enlarge):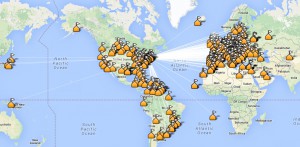 Here's my N1MM+ score summary:
 Band     QSOs   Pts  WPX


  3.5      22     41   12
    7      44     89   28
   14     126    356   82
   21     145    381  105


   28     104    298   73


Total     441   1165  300

Score : 349,500
My log was sent in for the contest and uploaded to LoTW, eQSL, QRZ and Clublog with the score posted to 3830. I have a few weekend commitments coming up so we'll see what's the next contest I can put some time into.